An article by Lisa with comments by Jürgen Chmiel
Anyone who has ever received a package from us may have noticed our small round sticker that says "Packed by people with disabilities". Before this little sticker and the team behind it existed, the road typing warehouse was still our living room and the dining table was permanently occupied as a packing station. This time was also nice, but fortunately it is over, because the Wertachtalwerkstätten for people with disabilities based in Kaufbeuren have been supporting us since 2019. Jürgen Chmiel, the northern facility manager, also explains this
When we contacted the workshops back then, there were still a few products and a manageable number of orders. First we needed an organized warehouse, then processes had to be discussed. What processes happen afterwards when a customer orders something from us? What happens next, exactly?
"The shipping department is one of the groups of employees with acquired brain damage - and here it is again about the individual needs of the employee. These people have suffered brain damage, for example due to a stroke, an accident or an illness. For example, you struggle with paralysis, poor concentration, visual impairments or sensory overload. For our team, our top priority is to support and develop the individual strengths of the people who work in our groups. And that's what makes it exciting: Which orders can we accept? Where are our boundaries? How can we support our employees to carry out activities? This is also about the motivation and pride in being able to carry out work well - despite restrictions. Roadtyping is of course a very suitable customer. There are a wide variety of work steps that employees with different disabilities can carry out."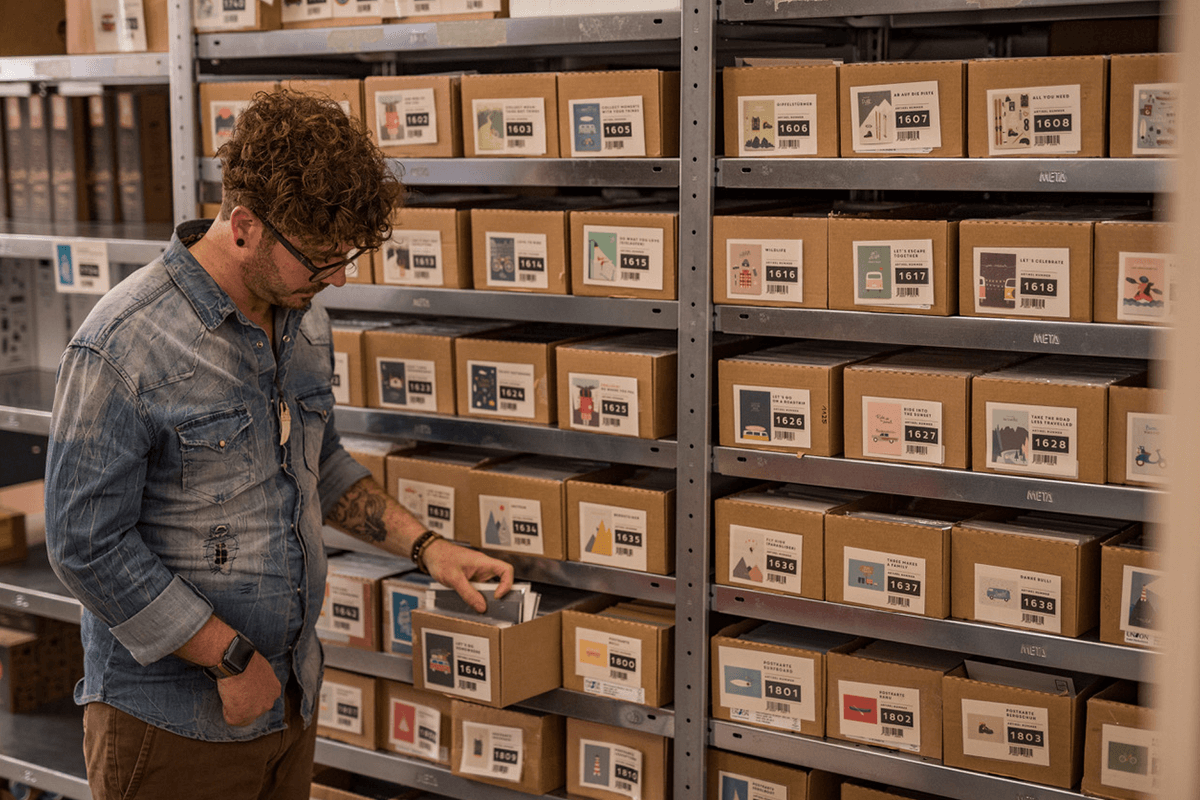 It quickly became clear that smooth shipping is not that easy and requires a wide range of skills. Particularly large orders for stores must be read correctly and searched correctly with great concentration. And how do you seal a package when you can only use one arm? In addition, there is the processing of orders on the PC, special customs requirements and, last but not least, accounting. As you can see, there is a lot involved and the employees do a great job! We also had to rethink our approach to empathize with the way employees work.  We pay attention to clarity when naming products, adhere to strict recurring processes, involve the team in the selection of shipping packaging and are always available if problems arise. But the same applies here - mistakes are human.
"Our view of humanity defines us and is our most valuable guiding principle. Together with Lebenshilfe Ostallgäu, we accompany people with different disabilities through all phases of life. From toddlers to seniors, we offer a wide range of services and facilities to provide support when needed. Wherever one arises and we see it, we try to get involved."
In addition to shipping, other areas of the Wertachtal workshops also take care of other diverse tasks. The entire assembly of our items, i.e. the upstream steps up to the finished commercial packaging,  various groups carry out manual work. For example, they collect the 24 gondola arches of our Advent calendar individually, stick them on the sales packaging and tie the cords to the enamel cups. The entire quality control is also carried out - this means that every product goes through two hands and is carefully checked for errors. Items with minor damage can then be purchased in our shop as a second choice item. If a task becomes boring or too strenuous, you pause or move on to something else.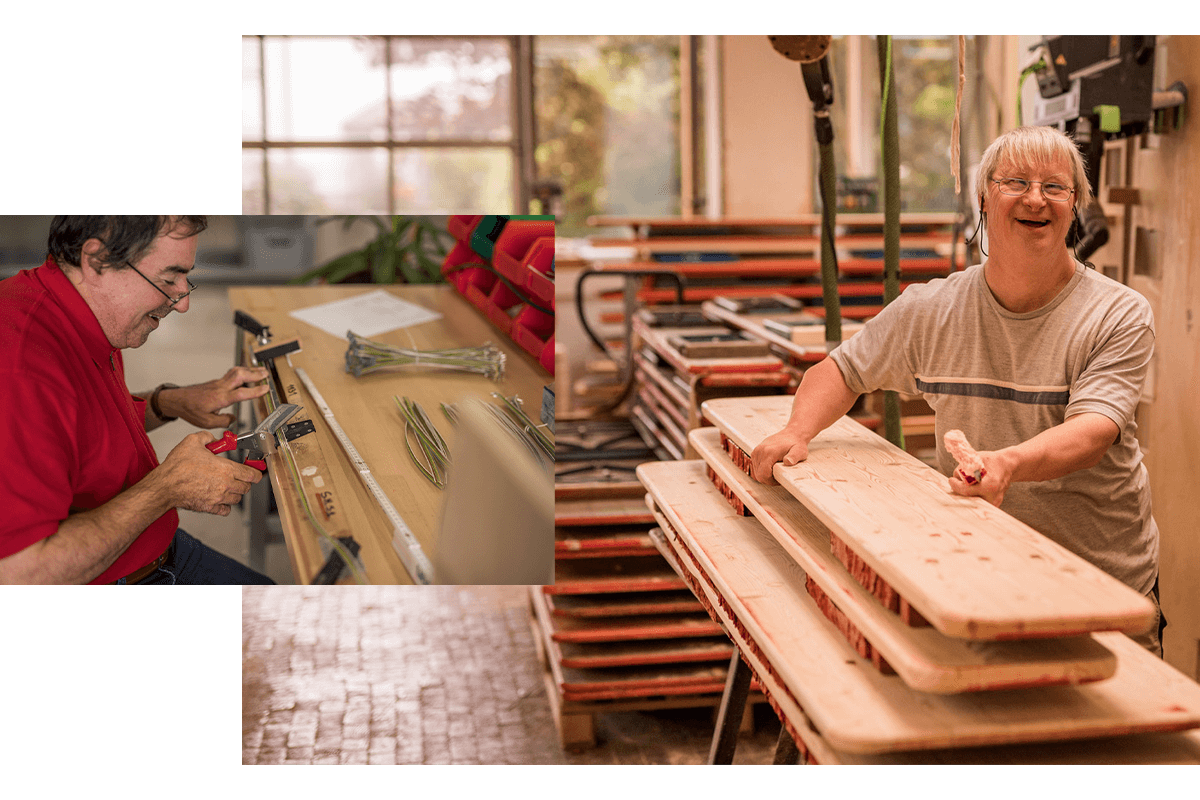 "The stories behind our employees are very different. For example, many people have a mental disability from birth. When the person is with us, they have the opportunity to explore their wishes and inclinations through various internal internships and preliminary qualification measures and then decide on an area. He/she can change this area at any time during the course of his or her professional life.
We check every order, no matter how small, for feasibility. Ultimately, we also want to offer our employees varied activities. We now have our own metal department, carpentry shops at all locations, two laundries, green area maintenance, several electrical/electronic production facilities and various assembly areas."
In addition to road typing, the workshops also take orders of over 500  other partners. If there are any boxes left over, they all end up collected by us and reused for shipping. Perhaps you have already received your order in a box from a large screw manufacturer? Other really great projects are definitely worth taking a look at: An area in Kaufbeuren, a carpentry workshop, prepares beer tent sets for many breweries in southern Germany so that they can be used for one or two festival tent seasons. Over the years they have made a considerable name for themselves here thanks to their high quality – a nice project! In our own organic factory (allgäuer-senfmanufaktur.de) you can buy many delicious regional organic products, from home-baked cookies to muesli mixes and home-made mustard. If you're ever out and about in Füssen, you should definitely treat yourself to a delicious breakfast at Café Werkgeplauder! We have an insider tip for all Kaufbeuren residents - you can have an incredibly great apple pie baked to order. We tried it ourselves! And if you sort out leftover books or no longer need them - give them a second chance and give them to the "MeH area". There they are resold or recycled. For more information, take a look at the workshop website!
We wish us many more successful years of cooperation! Finally, a few words from Jürgen Chmiel:
"We would like to achieve an even greater alignment of the offerings with the needs of people with disabilities. Through public relations and good work in the area of ​​inclusion, we hope that society and the world of work will become more open to the topic of inclusion and that transitions between the workshop and the world of work will become increasingly possible.
And another invitation to everyone: Just come along and experience it for yourself - in our experience, prejudices are often based on "dangerous half-knowledge" or personal contact that has not yet taken place :)"