Our favorite tours in Ostallgäu
These 5 hikes in Ostallgäu are great to do with a stroller or balance bike and include mountain views of the Allgäu Alpine chain
Leo was a real stroller baby and could sleep really well and for a long time in it. Being up in the mountains with a stroller is often difficult and inconvenient, so we often chose hikes that treated us to a wonderful mountain panorama. We still love these paths today because our two boys can really ride around with their children's bikes and balance bikes because the paths are flat and not steep. These paths are simply a part of Ostallgäu, because the hilly landscape of the foothills of the Alps often gives us a panoramic view. In addition, these hills or plateaus are always particularly sunny and therefore particularly attractive even on winter days.
We have put together our 5 most beautiful tours for you, which you can easily do with kids and strollers.
1. Kleeblattweg Lengenwang
This round is really one of our long-running favorites, because the route has so much to offer. There is a beautiful section through the forest, along a slope across the fields and you repeatedly cross a stream.
And on top of all this there are many details such as a lookout tower in the forest, a public barbecue area by the stream, a playground back in the village and various adventure stations for children.
The Kleeblattweg is actually four paths through the community of Lengenwang, all of which start at the train station. You can find more information here .
Starting point : Lengenwang train station, there are four circular routes
Length : there are two shorter ones with approx. 4 km and two longer ones with approx. 8 km
Coordinates: 47.697557, 10.601350
Refreshments : In the village of Lengenwang

2. Schwaltenweiher round
The Schwaltenweiher is a smaller lake near Seeg in Ostallgäu. In winter it is often a bit relaxed and you can walk through it and in summer it is a very popular swimming lake with families. The route around the lake is extremely varied, it goes along the lake and through the forest, through some boggy meadows and past Allgäu farms where animals live.
Starting point : Schwaltenweiher car park
Length : Approx. 4 km
Coordinates : 47.647217, 10.579223
Refreshments : There is a delicious alpine pasture at the parking lot
3. Lechuferwegweg from Lechbruck or dam in Prem
The Lech in Allgäu always reminds us of the adventure of Canada, the color of the water, the vegetation, the often difficult-to-access river and the view of the mountain range. He magically attracts us.
There are several options for hiking on the Lech, our tip starts in Prem at barrage level 2 and we hike directly on the bank to Lechbruck and back on the other side. It is very idyllic in every season.
Starting point : Preem Saudam, barrage level 2
Length : Approx. 6 km
Coordinates: 47.675969, 10.790517
Refreshment options: In Prem and Lechbruck

4. Alpe Beichelstein

The Alpe Beichelstein is no longer an insider tip, because the alp in front of it has probably the most beautiful view of the Ostallgäu mountain range.
There are several ways to hike here or take a hike from there. From the coordinates... you can walk up the mountain in about half an hour and arrive at the Alpe via a high plateau. But there is also the option of driving up to the Alpe (only limited parking spaces) and taking a nice lap at the top.
Starting point at the hiking car park below: 47.632292, 10.615818
Starting point Alpe: 47.632859, 10.642846
Length : Approx. 3-5 km
Refreshment option : Alpe Beichelstein (you can find opening times here )
5. Beer-cheese hiking trail
There is a very Allgäu hike with many highlights and information boards on the subject of Allgäu cheese and Allgäu beer. The hiking route between the two standpoints: Lehern dairy near Hopferau and the Maria-Hilfer brewhouse in Speiden near Eisenberg is really something very special and should be done once.
Starting point : dairy teachers, Hopferau
Length : Approx. 3 km one way
Coordinates : 47.605019, 10.641429
Refreshments : Plenty
↟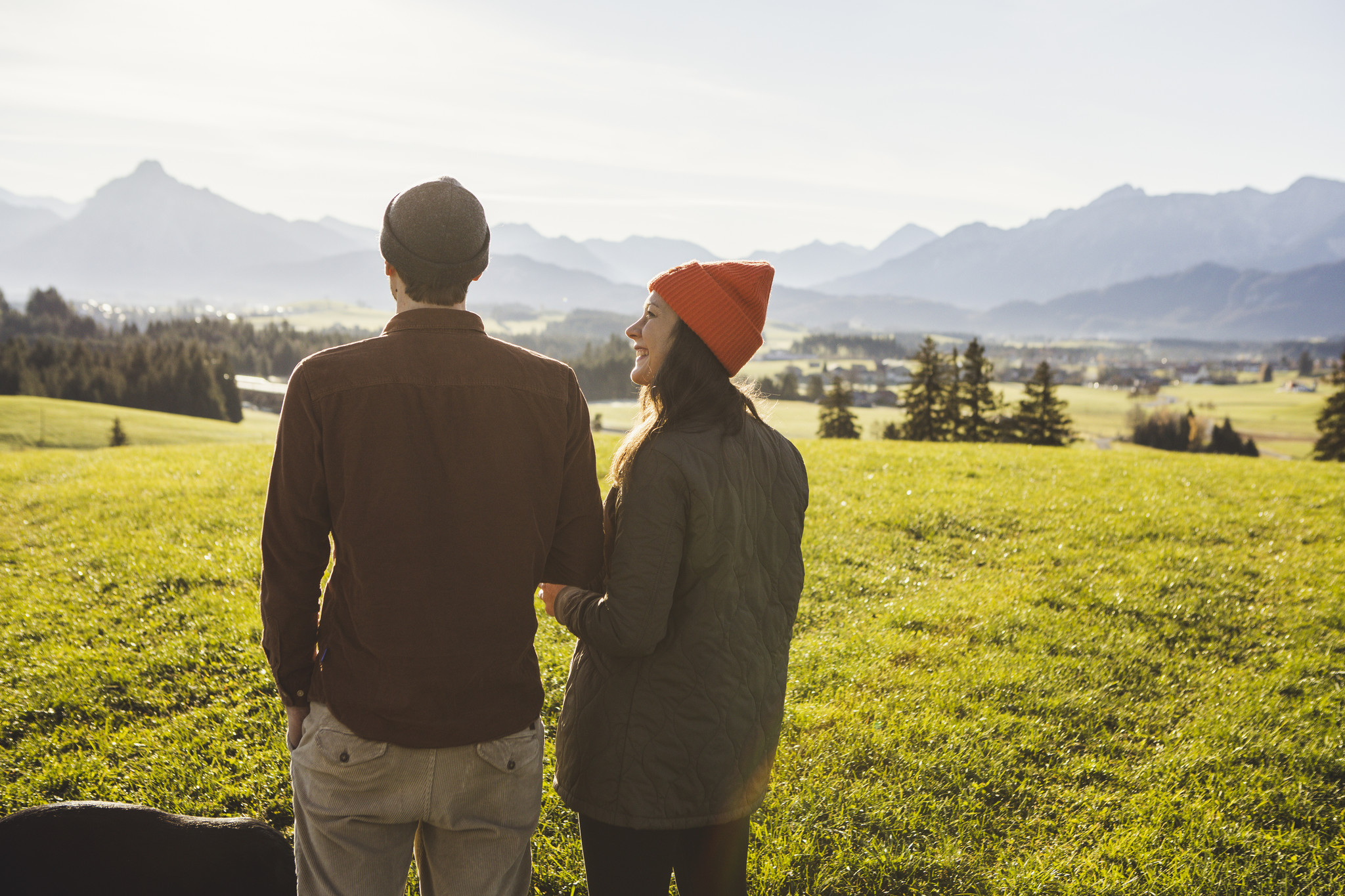 ↠

Note & Info:

We love our homeland, the Allgäu, and know dozens of beautiful tours, routes, paths, parking spaces and are happy to be able to share our love for the Allgäu and give tips on where it might be particularly beautiful or what great things to discover. Last year in particular, we experienced that it became very crowded, especially in the well-known hotspots, and this fact was no longer so fun for the locals and residents. We would therefore like to give you some pointers with our articles and recommendations, but still leave room for your own explorations. On behalf of the residents, we ask you to be considerate, keep parking spaces, respect nature reserves, of course take the garbage with you and, if necessary, just drive a little further. Thanks!

Much joy

Franzi, Marius, Leo, Casper & Lotta